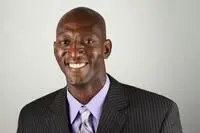 Omar A. Sesay is a Licensed Professional Counselor-Supervisor. He completed his undergraduate at the University of Central Arkansas and his Masters at Prairie View A & M University.
Mr. Sesay is one of the most prominent providers in the Houston community with over 18 years of experience in mental health, with the belief in the potential to change and grow. He believes in partnering with clients to meet goals and has spent many years working with adults, adolescents, and children. As a practitioner, Mr. Sesay believes in using effective and established treatment methods. Cognitive-Behavioral (CBT) and Acceptance & Commitment (ACT) forms of therapy are utilized in his practice.

Clients with life changes or adjustments, Depression, Bipolar disorder, ADHD, Anxiety disorders such as panic disorder, OCD, Personality disorder, learning and behavior challenges have been a focus of his outpatient work for many years. He has worked with serious and chronic mental health diagnoses in inpatient and residential settings. Mr. Sesay has specialty training in trauma, working with men, women, adolescents and children to recover from trauma and with special populations such as combat veterans, victims of sexual and physical abuse and assault. Other areas of specialization are in addiction and posttraumatic stress disorder/PTSD.
In addition to being a prominent trauma focused therapist, Mr. Sesay also works as the Program Director for the Projects for Assistants in Transition from Homelessness (PATH) and Homeless Outreach Team (HOT) with the Harris Center for Mental Health and IDD.
His therapeutic approach is to provide support and practical feedback to help clients effectively address personal life challenges in a warm, trusting and supportive atmosphere . He integrates complementary methodologies and techniques to offer a highly personalized approach tailored to each client. With compassion and understanding, he works with each individual to help them build on their strengths and attain the personal growth they are committed to accomplishing. He believes that addressing the emotional, spiritual, mental and physical aspect of the individual is the basis of effective treatment.


Mr. Sesay is available for on site or phone consultation. His office hours are Monday - Friday 5:00pm - 7:00pm. He is currently accepting new clients. Please call or e-mail Mr. Sesay directly for a free 15-minute consultation and/or to schedule an appointment.
Education
University of Central Arkansas- BS Sociology/Special Education 1995-1999
Prairie A& M University- M.Ed Educational Counseling 2006-2007

License, Certifications & Awards
Licensed Professional Counselor-Supervisor (LPC-S)
School Counselor PreK-12
Special Education Teacher Certification PreK-12 and Generalist 4-8 Teacher Certification
National Certified Counselor (NCC)
Additional Training
Trauma Focused Certified
Professional Activities and Memberships
Texas Counseling Association Emerging Leader 2016-2017
Texas Counselors for Social Justice- President 2016-2017
National Certified Counselor (NCC)-Active Since 2010
American Counselor Association (ACA)- Active Since 2008
South Texas Membership Selection Chairman for Omega Psi Phi Fraternity, Inc. 2010-2018